Custom made by Skilled Craftsmen in the USA
Callie Leather Christmas Dog Collar with Austrian Crystal Cluster
Brady Double Disc Wider Leather Dog Collar with Crystal on Disc
Brady Double Disc Leather Dog Collar with Crystals on Disc and Collar
Kathy Double Row Dog Collar with Crystals Close Together with taper at ends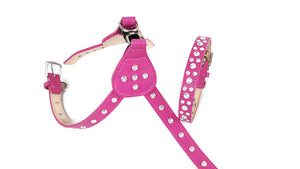 Penelope Flower Leather Collar with Crystals on Flower & Collar
Ava Leather Dog Collar with Checkerboard Austrian Crystal Pattern
Fashion looks great shared with family
No matter where you go always be prepared. Remember that your dog counts on you just like you often count on them.
Walking your dog with the proper leather accessories can make a huge difference in your day. Your dog will be so comfy wearing their custom made collar and harness. The details are known best when worn. You will see how Around the Collar truly pays attention to details with the years of skilled craftsmanship provided.
Bells Leather Sling Carrier with Side Zipper Pocket &, Nickel Studs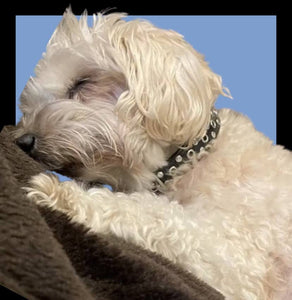 Ava Double Row Close Crystal Leather Dog Collar
Brady Double Disc Wider Leather Dog Collar with Crystals on Disc and Collar
Bone Leather All-In-One Harness with Bone Slider and 6 Austrian Crystals
Custom Made Leather Pet Accessories
Creating finely crafted leather pet products that will stay in your family for years to come is our greatest achievement.
Around the Collar takes great pride in the many years of knowledge and hands on experience in the leather industry and shares it when customizing each product made. Each piece is prepared by a skilled artisan with a passion for fashion and quality.
Take a Look
Testimonials
I love all your products and you are always so helpful to me. This is my favorite company for my leashes, collars and poop bags!
-Heather G West Chester, OH August 2021


Gorgeous designs and perfected craftsmanship! Can't wait to get another one for my Bella! Her pistachio leather collar w peridot and clear crystals have lasted beautifully for 4 years and she wears it the majority of the time! Love your products! I'm fancying a lavender and purple collar for her 7th Birthday in November!💝🐩  

Kathleen E Mission Viejo, CA
Thank you Sharon for making this special collar in honor of my sister. It is beautiful and looks great on her dog , Rose.

K. Woollett Plano, TX April 2019
As Seen in Yelp-4/19/2018

Around the Collar is great. Customer service is awesome and the collar they made for my dog was perfect.

Paula C San Francisoc, CA
Hi Sharon and Lalo, I received the harness it's "Beautiful"and it looks fabulous on her...will send you pics soon. She wore it today ️️️️
Thank you for the beautiful keychain.
Sincerely, M

Moyri B-Miami, FL Jan 2018